Testing beyond the standards
November 11, 2022
Groke PRO offers outstanding situational awareness by providing the navigation crew of a vessel with the ability to see everything around it with a single device. The 225° camera provides heightened awareness of obstacles and potential dangers in a vessel's surroundings. The seamless day and thermal camera blend gives precise and clear visibility, even in bad conditions. By voluntarily testing this new device with Solar Simulator, Groke could further confirm to its customers that this new device will withstand the harsh maritime conditions in Japan.

Established in Finland in 2019, Groke Technologies aims to enable the first stages in the transition toward autonomous shipping with their multisensor-based intelligent voyage advisory systems. The company's first commercial product, Groke PRO, enables navigation with less stress and higher safety.
A strategic investment from one of the first investors, Mitsubishi Corporation, led the company to develop Groke PRO first with the needs of the Japanese maritime industry in mind.
"There's a clear need in the Japanese market," says Juha Rokka, CEO of Groke Technologies. "Japan has approximately 7,000 – 8,000 vessels under the Japanese flag, which means they need to be manned by a Japanese crew. The industry's high number of middle-aged crew is one of the primary drivers in the transition to automate operations with increased safety and lower human dependency."
"This technology allows you to see the shapes and colors with accuracy you normally don't see in nighttime or poor conditions with the human eye. The nighttime feature is unique and greatly improves visibility. The user sees only one combined image on the display," says Mikko Mäkelä-Vaitilo, Head of Products at Groke. "Our technology provides relevant information to operators and captains that increases a vessel's stability, accuracy and safety – all crucial aspects."
Generally, 80% of the accidents at sea happen because of human error – and this is especially the case in challenging environments or congested waterways. So, Groke focuses on providing better information for decision making. A good perception of what's out there allows users to know what kind of risk situation they face. Operations become more efficient, and the navigation crew knows exactly where other vessels are and how they are moving.
Groke PRO's integrated system includes all cameras and sensors in one package on board the vessel. This makes it easy to install and maintain. Groke's R&D team conducted official environmental tests to receive the certifications and performance evidence under different operation conditions.
"Those are basically one-shot tests that require a relatively short time, so they are not representing a longer time performance," says Juha. "Because we are combining countless different materials, such as antenna, wire dampers, nuts and bolts, we wanted also to test the endurance and aging to see if the unit and all its parts can survive in the local Japanese conditions. We wanted to know how all those materials age together and how the chemical reactions in different materials actually occur."
Mikko had worked at Solar Simulator some 20 years ago and recommended the company to carry out these special tests.
"I knew these guys and what they can do," Mikko says. "So, we started testing in mid-June, and the tests took a bit over two months to complete."
"Solar Simulator provides increased-time life-cycle testing. This means that we could see our unit aging 5 years in the Japanese maritime environment in just two months. So, it was possible to test the conditions from the north of Japan to the south, considering all types of possible weather conditions there, such as sun, rain, UV radiation and various temperatures."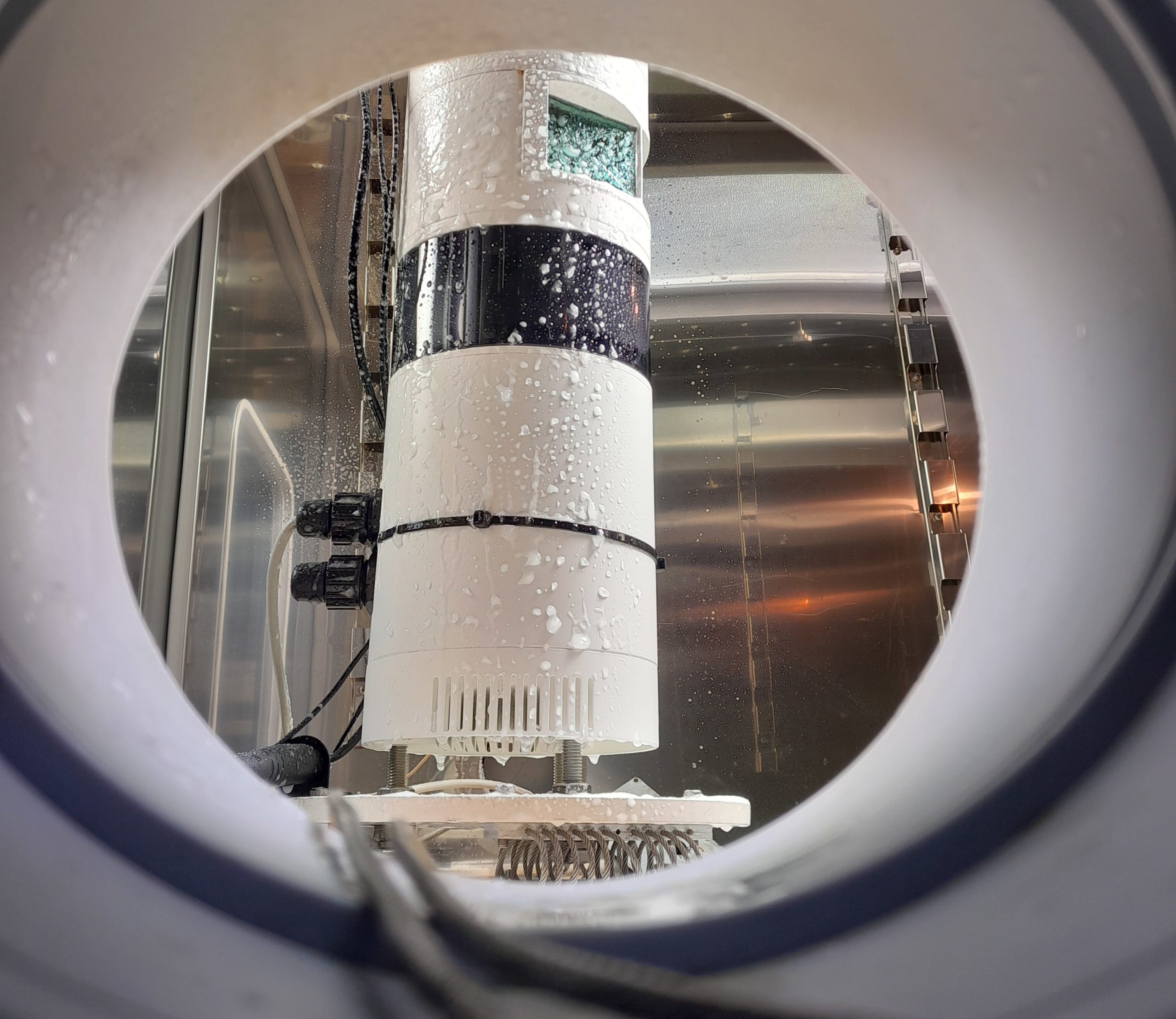 Although the team expected corrosion, the results showed little of it. "It actually looked a lot better than we expected," says Teemu Helenius, Hardware Development Lead at Groke. "And we could see exactly where the corrosion was occurring."
"In the end, we are a software company," Juha emphasizes. "But we deliver our hardware, too, although we just assemble it for deliveries. We focus on three areas: artificial intelligence and machine learning, sensor fusion and user interface and user experience. Since this is new technology, we want to ensure that our users feel the power and value of this new technology immediately."
Modern artificial intelligence and sensor fusion algorithms are at the core of Groke PRO. The company has combined machine vision-based detection with more traditional sensor data like radar data and data from the automatic identification system (AIS), a tracking system using transceivers on ships to aid vessel traffic. Therefore, in addition to providing an image, the camera is also used for machine vision purposes, like detecting other vessels. This functionality improves navigation safety significantly.
The sensor unit of Groke PRO is the company's proprietary innovation, and they have exclusive rights to use it in the maritime domain. With a compact size of 40 x 15 cm, it is extremely robust and heavily exposed to the environmental conditions because it is usually located outside, on top of the bridge.
"We have to deliver the hardware, too, to create the software magic," Juha continues. "Because we are using new hardware, that is exactly why we did the testing with Solar Simulator. We know that our customers will ask us about the expected lifetime and how long our device will last in their operations. That's why we voluntarily engaged ourselves in extra testing that went beyond the normal regulatory requirements."
"Testing voluntarily like this to support a company's overall strategic goals does not happen as often as it should," says Hannu Suokivi, Managing Director of Solar Simulator. "We applaud the extra efforts made by Groke and know that this will help them penetrate further into the Japanese market by being able to use the testing results to underline their devices' outstanding performance."
Now that the first Groke PRO units have been installed, encouraging and positive feedback is coming from the users. Users are relying on these devices quite frequently to give them the information they need. The units are easy and intuitive to use, and they all use Japanese as the language for communication.
Moving forward, the aim for Groke is to have a strong presence in the Japanese vessel market. But if testing can predict the future – then Groke PRO is sure to achieve its goals throughout the years with outstanding performance.
Myös seuraavat kirjoitukset saattavat kiinnostaa sinua:
Anna tuotteellesi arvo – Ota yhteyttä