Building lasting value with acoustic insulation
October 26, 2021
When ramping up a new direct acoustic spray concept into high-speed on a global scale, INVISIBLE® Acoustic Ceilings Scandinavia found that having the right partner to test and create value for products makes life easier. The company's VISIBLE® Zero Carbon Acoustic Spray product concept eliminates echo in a wide range of environments, such as inside retail spaces, offices, and restaurants. The product can be sprayed directly on a surface, like concrete, thus offering a more adaptable and flexible alternative to traditional acoustic solutions, such as suspended ceilings and acoustic panels. This allows architects and their customers to design more open floorplans with higher ceilings – creating a more productive and satisfying environment to enjoy.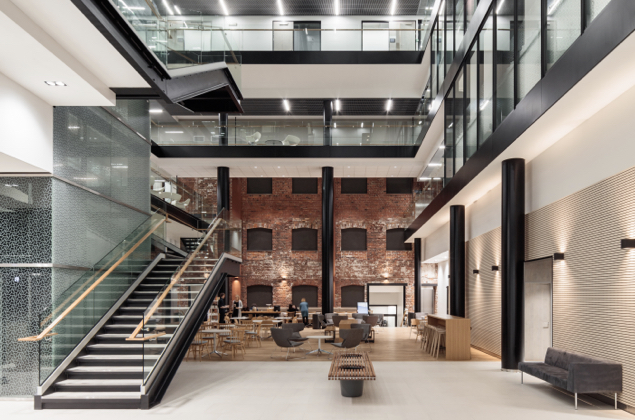 Teaming up to launch a completely new product at the start of 2021 with Matti Kilpeläinen has given Reijo Karhulahti a great reason to shine at what he does best – growing businesses internationally.
Reijo has a long background working with architects and managing a global acoustics company that was sold a few years ago. Matti had been developing a zero-carbon acoustic spray that cuts the echo, making communication easier in large, open spaces. The product and all auxiliary equipment are completely produced in Finland.
When Reijo met Matti, he recognized the idea's genius with enormous sales potential globally. The team started internationalizing the company from the first day, starting from Sweden, which is close by and a country that Reijo knows well from his previous business background. From there, they expanded into the Baltics.
According to Reijo, the business has been like being a man in a Finnish dance hall when it's women's night… "Customers have just flocked to choose us," he laughs.
Still, when it came to delivering to large projects in India, the company realized it needed support in testing. "We needed UV certification and humidity certification to build trust in our concept," Reijo says.
He received a reference to call Solar Simulator in Turku, Finland, to perform the tests. From the start, he knew Solar Simulator could understand their situation. "They immediately spoke our language and explained what tests could be done to add value," Reijo recalls. "It was easy to communicate with Solar Simulator."
Reijo assumed full responsibility for the testing to further develop marketing and business potential, while Matti focused on the product development. Therefore, it was essential for Reijo that Solar Simulator knew what they were doing.
The reports and certifications that Reijo and Matti received were excellent. Not only did they provide the necessary information in a visually pleasing and professional manner, the reports were highly informative.
"What impressed me most was Solar Simulator's way to communicate with us. They were easy to approach. Other test providers that I have worked with in the past have been much more bureaucratic. Solar Simulator's price-performance ratio was also very good," Reijo says.
Open communication, according to Reijo, is essential. Solar Simulator also succeeded well in helping Invisible Acoustic Ceilings develop their offering in the right direction for the foreign markets.
"We can't sell our concept in countries like India and the Middle East without the certificates. Those are a must!" he emphasizes. "It makes our lives easier – and the lives of our customers when they know what our product can and cannot do."
To date, the company's customers have truly appreciated the reports. They have been impressed by the visual content and level of professionalism.
Reijo underlines that he will absolutely continue to test new products with Solar Simulator. "I really appreciate their way of communicating. It's not just about telling us the facts – but rather telling them to me in a way that I fully understand – and on a level that I can use to explain on to our customers."
Above all, Invisible Acoustic Ceilings is driven by environmental values. They are passionate about bringing zero-carbon acoustic spray to people around the world to enhance their overall acoustic experience.
To succeed in business, Reijo knows that engaging people is the way to build respect and trust. In his opinion, this is the same trust that Solar Simulator has built in serving their customers – and their customers' end customers – with testing and reports that support the mission of sustainable, long-lasting results.
Myös seuraavat kirjoitukset saattavat kiinnostaa sinua:
Anna tuotteellesi arvo – Ota yhteyttä