A proper and easily understood report
All our reports contain testing sample documentation, equipment specification and calibration data for traceability. Reports are submitted in PDF form within two working days of the end of testing.
An Exposure Report is for situations in which the customer takes its own readings and analyses the sample. In this case, the report will not contain any observations, conclusions or recommendations concerning the sample. The Exposure Report contains a description of the exposure method as well as information on the measured and verified conditions during the exposure.
A Comprehensive Test Report is for situations in which sample readings are taken and other observations are made in addition to the exposure. The report contains test conditions documentation as well as measurement results, test method validation and the final test result concerning all specified samples.
A Customized Test Report is for situations in which the customer has its own measurement results or other information to be included in the above-mentioned reports in order to supplement the testing entity. A Customized Test Report is thus not an independent type of report.
An Executive Summary is for situations in which targeted information is to be provided to partners, subcontractors or customers. Testing reports focus on a certain result, measurement or product attribute. An Executive Summary can also be published, upon agreement.
Reporting service. We also report on, for example, the customer's own tests and measurements based on documents and test data. We can also serve as a "third party", an impartial expert and test monitor.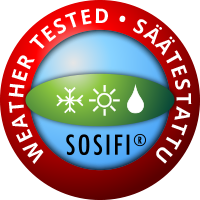 The SOSIFI Library is a tool for our customers' sales and marketing. The open SOSIFI Library publishes select data on product durability or functionality that is relevant to the end user and consumer. The SOSIFI Library contains a brief summary of the results obtained. In addition, a detailed report on the testing conducted and its basis is also openly available. Testing can also be conducted by another testing facility or the customer itself. Testing and its documentation must be reliable and professional.